Roger Bannister's Legacy Endures Test of Time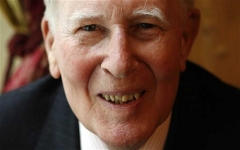 August 07, 2012
By Mike Wise, The Washington Post
"Who is that?" a Brit of maybe 45 asked as a cluster of his countrymen took pictures with the man.
"It's Roger Bannister."
"Sir Roger?!" he said, scrambling for his camera and yelling for his family to pose with the first man to break the four-minute barrier in the Mile.
Continue reading at: washingtonpost.com