Why shouldn't the Olympics go the extra mile?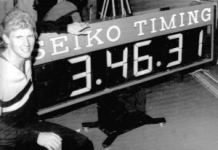 February 19, 2012
By Mike Rowbottom, Inside the Games
...But what I heard next was a question addressed to Cram of, thankfully a more conventional nature, asking merely what had been the highlight of his athletic career.
There was only a moment's hesitation before the athlete who won the first ever world 1500m title in 1983 and was the first to run 1500m in under 3min 30sec, the athlete who won three Commonwealth titles, two Europeans and an Olympic silver medal announced: "Breaking the world record in the mile".
Cram's highlight came in his annus mirabilis of 1985, in the Oslo Dream Mile, an event that carries its own fabled associations in just the same manner as the Wimbledon or FA Cup final.
Read complete article at InsideTheGames.biz