Long May You Run ... at Sub-5 Minute Pace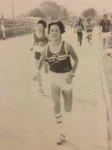 October 20, 2014
Top Master and 3:55 Miler goes sub-5 for the Mile for 33rd straight year.
By Christian Cushing-Murray
I woke up this morning, Saturday, October 18, and broke 5 minutes in a Mile. This is not meant to be boastful--those who know me know that it does not require a monumental effort--yet--on my part; of course, that additional statement sounds even more boastful, and, since those who know me know that any attempt at modesty would be fraudulent, let me just state up front that this is meant to be less about my medulla oblongata breaking 5, and more about a post-it note for the temporal lobe of my brain, reminding me why I do what do. Maybe it'll remind you, too, of why you do what you do.

In 1982, near the end of my sophomore year at North Hollywood High School, I completed my first season (cross country and track) of running by breaking 5 minutes for the first time in my last 1600 meter race, running 4:57. I was younger (14-years-old) than most sophomores, having skipped a grade; at the time, I'm glad my elation at the accomplishment was blissfully ignorant of the fact that there have been many, many middle school children--including girls!--who've done this. Instead, I savored a moment that was the culmination of what I perceived then as hard work; to this neophyte, I may as well have scaled Everest.

Fast forward to this morning, October 18, my 47th birthday, a lone figure on a dark, crescent moon-lit, pre-dawn track, no fanfare, no selfies, no video, no audience, no witnesses--a "tree falling in the forest" moment that may or may not have ever existed. The previous afternoon and coming hours will be busy with helping host a two-day cross country meet that will encompass around a hundred Orange County high schools, so the solitude is a welcome respite sandwiched by the two days' disarray.

As far as I can tell--I haven't documented it and I have no hard evidence since I didn't start keeping track until the last few years--I've broken 5 minutes for the Mile in each of the years between that moment in 10th grade and this morning (4:55.67, self-run, self-timed), 33 years in a row and running (pun intended).
Continue reading at: http://blog.petemagill.com/blog/christian-cushing-murray