Jim Ryun shatters Mile world record 50 years ago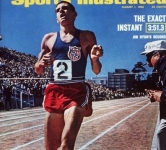 July 17, 2016
"In New Zealand, we thought the Mile belonged to us. It was a shock when Jazy broke Peter Snell's record, but when I heard on the radio that the American kid had run two seconds faster, I thought it must be a mistake."; No American male has held the outdoor Mile world record since.
By Roger Robinson, Runner's World
Fifty years ago, July 17, 1966, Jim Ryun of Kansas University broke the world record for one Mile. His 3:51.3 at UC Berkeley was more than two seconds faster than Michel Jazy's one-year-old mark of 3:53.6. Ryun was 19 years and two months, the youngest man ever to hold the record.
For 30 years America's Milers had been in the wilderness. The last American to hold the world record was Glenn Cunningham, also of Kansas, from 1934 to 1937. Cunningham's Olympic silver in 1936 was the last time any American had reached the 1500 meter podium.
"We were waiting for the next great American Miler. Track was a major fan sport in those days, with big crowds, and every important meet covered on TV. Americans fans love the Mile. Dandy new Milers kept appearing—[Jim] Beatty, [Dyrol] Burleson, [Jim] Grelle, [Cary] Weisiger, [Tom] O'Hara—but none quite came up to it. At the 1964 Olympics, it was Bob Schul and Billy Mills who won in the longer races, while our middle-distance runners were overshadowed by [Peter] Snell of New Zealand. Then all of a sudden, this Kansas college kid shatters the world record," said Greg Vitiello, 81, a lifetime New York track fan and historian for the USA Track & Field Hall of Fame.
If America was triumphant, the rest of the world was almost incredulous.
Continue reading at: www.runnersworld.com