Hayes grad Jake Edwards runs sub-4 minute Mile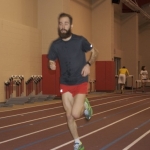 March 04, 2014
"I hit the line at 3:59, saw my official time and had a feeling somewhere between elation and relief I'd say."
By Ben Stroup, Lima News
Jake Edwards has been chasing things his whole life.
He's caught up to most of them, whether it be an OHSAA Division I State Championship in the 1600 meter run or a track scholarship to The Ohio State University, but there was one thing that eluded him for quite some time … key word being was.
The former Delaware Hayes standout successful ran a Mile in under four minutes early last month — something many thought to be impossible at one time — checking off a dream he's been running toward for years. Edwards posted a mark of 3:59.47 in the one-Mile run during the Midwest Indoor Track & Field Open, hosted by The SPIRE Institute in Geneva, back on Feb. 1 — an effort even he didn't see coming.
"I ran in a couple smaller meets leading up to the event and neither were fantastic," Edwards said. "They were just kind of to blow off some steam. I went into it (SPIRE) not knowing I could do it, but the race itself was set up to go under four."
Continue reading at: www.limaohio.com