Florida athletes claim High School Dream Mile crowns at Boost Boston Games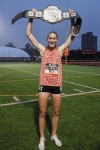 May 19, 2018
"Adidas really makes us high schoolers feel like pros. To me that's really awesome and really special and it's just an awesome environment."
By P.J. Wright, The Boston Globe Correspondent
CAMBRIDGE — Amongst the hype surrounding the elite talent coming to compete at MIT's Henry G. Steinbrenner Stadium from around the world, one particular event was not like the others on Saturday night.
Each year, mixed in with the men's Mile and the adidas women's 800 and 1500 — events with Olympic-level competitors — the Boston Boost Games runs the adidas High School Dream Mile, the only event on Day 1 featuring solely high schoolers. It gives young, up-and-comers from the United States a chance to compete against their most talented peers, surrounded by the biggest names on one of the biggest stages.
On Saturday, both race champions in the Dream Mile event hail from Florida schools.
For the girls, senior Caitlin Collier of The Bolles High School in Jacksonville broke the Florida high school record by nearly three seconds by crossing the finish line at 4 minutes, 38.48 seconds, while Michael Phillips of Lawton Chiles High School in Tallahassee was first in the boys' race with a tremendous kick at the finish to win by less than a second, clocking 4:08.03. Impressively, Collier is now #9 U.S. all-time high school girl and #6 U.S. HS-only all-time in the Mile.
"I came to Dream Mile my sophomore year and got my butt handed to me," said the Stanford-bound Collier. "I just wanted to go out and get a PR, and coming home with the win was really the icing on the cake."
"My goal was to run fast and to see if I could get the win," said Phillips, who will attend Syracuse in the fall. "I didn't fully expect to get the win, but to come out on top was awesome and it was definitely a dream of mine."
Continue reading at: bostonglobe.com