COVID-19 Triggers 2021 Millrose Games Cancellation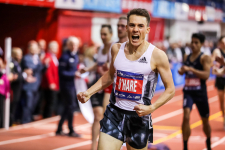 December 27, 2020
The world's most prestigious indoor track & field meet will return to The Armory on February 12, 2022
From The Armory Foundation
NEW YORK – The Armory Foundation has decided after extensive consultations with health experts that, due to rising cases nationally of COVID-19, it is advisable to cancel the 114th Millrose Games, previously scheduled for February 13, 2021 at The Armory in New York City.
First run in 1908, the Millrose Games has featured legends such as Paavo Nurmi, Eamonn Coghlan, Allyson Felix, Joetta Clark, Carl Lewis, Jackie Joyner-Kersee, Bernard Lagat and many others. However, given the health situation in New York and across the country,the prudent thing to do is to abstain this coming year.
Since 1926, the centerpiece of the Millrose Games has been the fabled Wanamaker Mile, held continuously to 2020.
Said Millrose Games Meet Director Ray Flynn: "Cancelling the iconic Millrose Games was a very difficult decision, but with all the health concerns surrounding an event of this complexity, rather than risking the athletes, officials, meet personnel, media and others, we have decided to wait until February 12, 2022, for the next edition of the Millrose Games."
About The Armory Foundation
The Armory Foundation is a New York City non-profit institution, with the mission of "Keeping Kids on Track." Each season The Armory – the proud home of the Millrose Games – hosts more than 100 track & field meets and welcomes more than 220,000 athlete visits. The Armory is also the home to the National Track & Field Hall of Fame and dozens of very large education-focused events. For more, go to: ArmoryTrack.com