Centrowitz runs in Moscow 3 decades after his father did not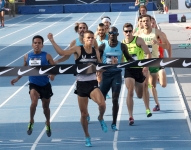 August 14, 2013
2011 World Championships 1500m bronze medalist and 2013 USA 1500m champion qualifies for 2013 Worlds 1500m semis
By Pat Graham, Associated Press
MOSCOW -- Nearly 33 years later, a Centrowitz family member finally stepped inside Luzhniki Stadium and started a major race.
With a freshly buzzed haircut, Matthew Centrowitz easily advanced out of his first-round 1500 meter heat at the world championships on Wednesday, taking a couple of laps that his father never got to run.
For the senior Centrowitz, who goes by Matt, his son's presence in the Russian capital almost seemed full circle since the U.S. boycott of the 1980 Moscow Olympics prevented him from racing in the 5000 meters at the same stadium.
And for the son, his fast trip around the track felt like he was running for them both.
In a way, he was.
Leading up to the race, Centrowitz couldn't help but think of his father and what he possibly could have accomplished had he competed in Moscow all those years ago at the Olympics.
"He missed his chance of competing well, because he was running well that year," said the younger Centrowitz, a former Oregon Ducks star now with the Nike Oregon Project and a bronze medalist at the 2011 Worlds in South Korea. "It's a little weird thinking about that coming in."
Centrowitz's race (left) w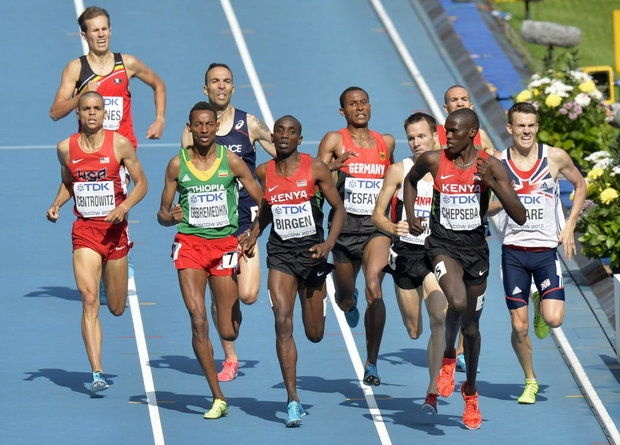 as one of the few events on an abbreviated day at the World Championships. Dwight Phillips qualified for the long jump final in his attempt to win five world titles, and Robert Heffernan of Ireland won the only medal on Wednesday's program in the men's 50-kilometer walk.
All that happened with the elder Centrowitz thousands of miles away.
Matt Centrowitz thought about attending the Worlds so he could share the moment with his son. He just couldn't get on that plane.
No, not because of any bitterness -- "I really don't visit that memory too much," he said in a phone interview -- but rather due to his commitments at work. He's the longtime track and cross country coach at American University in Washington, D.C., and had to host potential recruits this week.
"This is still very cool, whether I'm there in the stands or not," said Centrowitz, who planned to watch every step of his son's races despite the eight-hour time difference. "That's my son, and it's track -- two great things."
Back in his day, the elder Centrowitz was quite an accomplished runner, qualifying for the 1976 Olympics in Montreal.
"Got knocked out so dang early, though," he said.
Then the next season, he led Oregon to an NCAA cross country title.
The father would've been in the hunt for a medal in Moscow had the U.S. participated. He was in good shape at the time.
The decision by President Jimmy Carter to boycott came after the Soviet invasion of Afghanistan and caused lingering bitterness between the two countries for years.
There's no lingering animosity with the elder Centrowitz.
Continue reading at: www.oregonlive.com