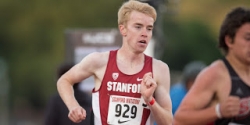 March 26, 2017
The O'Hara-Keelan breakthroughs came fifty-four years apart.
By Paul O'Shea, Once Upon a Time in the Vest
It's a brick wall. I shall not attempt it again.
--John Landy, after running between 4:02 and 4:03 six times in 1953.
Fortunately for the track and field world, the determined Australian broke both his vow and four minutes when he set a world record of 3:58 in l954. Unfortunately for Landy, his feat came forty-six days after Roger Bannister's epic run.
Since those fondly remembered days, more than a thousand men have run under four minutes (but where are their Ran Sub-4 bumper stickers?). Nearly five hundred Americans now claim that distinction.
Only a few U.S. high schools have graduated a pair of sub-4 minute Milers including Wichita East High School in Kansas (Archie San Romani, Jr. and Jim Ryun), and Chicago's St. Ignatius, which gained this recognition just weeks ago.
Continue reading at: www.onceuponatimeinavest.blogspot.ca