Brea Olinda's Tamagno sets OC Mile record at Mt. SAC Relays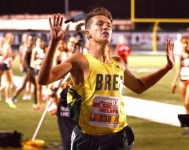 April 16, 2016
Sonoma Academy's Rylee Bowen wins girls Brooks Mile in 4:47.26
By Andrew Turner, OCvarsity.com
NORWALK – Brea Olinda senior Austin Tamagno has made a regular occurrence of wowing running fans since he entered high school, but coming into the Mt. SAC Relays on Friday night, it was San Clemente's Connor Dunne who led the nation in the Mile.
Tamagno decided enough was enough, laying down the fastest time in Orange County history - 4 minutes, 3.21 seconds - to win the Brooks Mile at Cerritos College.
"I've been consistent in improving each and every day since I was a freshman," Tamagno said. "I've had the most consistent high school career of a senior this year.
"I've always found myself on top."
Continue reading at: www.ocvarsity.com