Bannister's epochal sub-4 minute Mile record-smashing run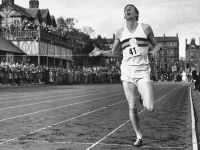 October 21, 2017
Bannister raced for one more event then retired to concentrate on his medical career. His niche in sport history forever assured.
By Eddie G. Alinea, The Manila Times
Many had come close to it, but were eventually thwarted as if held back by powers unseen and demonic.
They all were, until one drizzly afternoon of May 6, 1954 at the Iffley track in Oxford, Englishman Roger Bannister, a medical student, became the first man ever to shatter the 4 minute Mile barrier.
Watched by 3,000 spectators, the 23-year-old 6-foot-1-inch, 130-pound soon-to-be Dr. Bannister conquered the rain-soaked circuit fanned by a 15-minute per hour wind to more than make up for his failure to qwin England a medal in the 1952 Helsinki Olympics.
The 4 minute Mile didn't seem doable until the early 1930s when Jules Ladoumegue of France did 4:09.2 and Jack Lovelock of New Zealand 4:07.6. Then 1934, Glenn Cunningham, a magnificent runner from Kansas ran a 4:06.8. Britain's Sydney Wooderson did even better at 4:06.4 in early 1940s.
The great Swedish Arne Anderson and Gunder "The Wonder" Hagg alternated in lowering the record virtually every year until in 1945, Hagg nearly got the record with an even faster 4:01.4. Serving notice that, indeed, the sub-4 minute Mile would become a reality.
Continue reading at: manilatimes.net