Bannister 'astonished' sub-4 minute Mile continues to inspire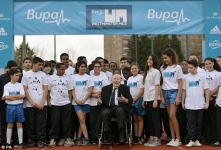 February 26, 2014
"I myself was inspired after being taken to see Sydney Wooderson at Crystal Palace and I realized that was the sport I wanted to do."
By Mark Bryans, Press Association
Sir Roger Bannister remains 'astonished' that his achievement of running the first sub-4 minute Mile is still celebrated but he hopes it can continue to inspire generations.
Bannister recorded a time of 3 minutes 59.4 seconds in Oxford on May 6, 1954, an achievement that earned him instant worldwide acclaim.
He went on to win gold in the Mile in the 1954 Commonwealth Games, beating John Landy who had broken Bannister's record just 46 days after the Brit had set it.
Now 84, and with the 60th anniversary of his achievement approaching, Bannister is flattered by the interest that remains in his landmark run and hoping Britain can produce new track heroes.
Continue reading at: www.dailymail.co.uk
Sir Roger was talking in his position of patron for the Bupa Westminster Mile. This year's event on May 24 will officially mark the 60th anniversary of Bannister's sub-4 minute Mile.