USA's Manzano Comes From Behind to Claim Silver in 1500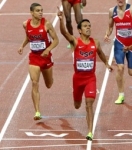 August 07, 2012
"My kick has always been there. Ever since I was maybe 12-years-old, I've had this major gift from God. I guess sometimes it's just been kind of overlooked."
By David Leon Moore, USA TODAY
LONDON – The race was run by someone who a day earlier had been kicked out of the Olympics. That alone tells you it was a strange race.
Strange, too, that U.S. 1500m runners were so strong in an Olympic race.
Mexican-born Leo Manzano, 27, who moved with his family to Texas when he was 4-years-old, came out of nowhere Tuesday night in the homestretch to charge to a silver medal, the first Olympic medal by a U.S. man in the metric Mile since legendary Jim Ryun won a silver medal in 1968.
Matthew Centrowitz, the 22-year-old phenom from Eugene, Ore., who won a World Championships bronze medal last year and was considered a contender here, finished fourth.
On the heels of Galen Rupp's silver medal in the 10,000 meters, U.S. distance runners are on a, well, run
Continue reading at: usatoday.com