Nick Symmonds Sees More Miles in His Future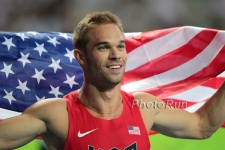 September 25, 2013
2013 World Championships 800m silver medalist to test 1500 and Mile distances in 2014
By Chris Lotsbom, Race Results Weekly
Nick Symmonds was satisfied with his 4:00.1, 17th place performance at last Sunday's NYRR Fifth Avenue Mile presented by Nissan. When notified of his time shortly after crossing the finish, the 29-year-old let out a big "Aww c'mon" and had a smile on his face.
"I said I have one goal to break four [minutes] and I was .1 off, but it sets me up for a nice long break before I start training for indoor," he told Race Results Weekly. "I've beaten these guys before just not at this event."
For the IAAF World Championships 800m silver medalist, the road Mile was both a test and a beginning. Symmonds used the race as a fun way to set the stage for next year, when he plans to make the 1500m/Mile his primary focus.
After much success over two laps on the track -- five-time USA Outdoor champion, fifth place 2012 Olympic finish, and 1:42.95 personal best -- Symmonds will be shifting his goals to the 1500m and Mile over the next calendar year, exploring the events in the IAAF World Championships "off" year. Ultimately, Symmonds's goal is to double in both the 800m and 1500m at the 2016 Olympic Games in Rio de Janeiro; in 2014, the plan is to only run the 1500m at the USA Outdoor Championships.
"I've come a long way in my strength the last couple years," Symmonds told Race Results Weekly prior to the Fifth Avenue Mile. "I was able to get down to 3:34 for 1500m which makes me a little bit more competitive as a Miler, but I think still when you look down the list of PRs in the Mile I'm towards the bottom as an 800m guy."
Continue reading at: www.runnerspace.com