Mia Barnett blazes sub-4:40 Mile in high school race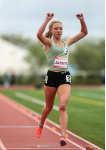 May 16, 2021
"She has felt really confident in workouts and was really excited to come back to the Mile..."
By Jeffrey Parenti, MileSplit CA
Mia Barnett continued her jaw-dropping senior season when she ran the Mile in 4 minutes, 39.41 seconds -- the third-fastest outdoor time in California history -- while competing in an Open meet Saturday in Irvine.
Barnett, a senior at Crescenta Valley (SS), posted a Mile time that converts to 4:37.79 for 1600 meters. Barnett now slots behind only Polly Plumer (4:33.65c for University (SS) in 1982) and Christine Babcock (4:33.82 for Woodbridge (SS) in 2008) on the all-time state list.
Saturday night, Barnett, running for the Crescenta Valley Track Club, was competing in the Track Meet at Crean Lutheran HS that included two high school-specific Mile races.
Barnett closed her assault on the clock and the record book with splits of 68.34, 67.86, and 70.16.
"It was really fun to see all that strength that she has developed as a runner be utilized in a 1600," Crescenta Valley coach Rob Evans wrote in an email. "Her middle laps were so impressive, and something we talk a lot about in practice. She has felt really confident in workouts and was really excited to come back to the Mile after running some 800s and 3200s."
She already held 2021 U.S. #1 ranking for both 3200m and the Mile. She now also ranks #1 nationally 1600m.
Sadie Engelhardt, an eighth-grader at Cabrillo MS in Ventura, was second in 4:46.25 (she closed in 69.18). Dalia Frias (Mira Costa TC) was third in 4:47.71, Sam McDonnell (Newbury Park TC) was fourth in 4:48.41, and, Barnett's longtime friend and training partner, Audrey Suarez (Mayfield TC) was fifth 4:48.48.
So far this spring, Barnett has run 2:07.31 for 800m, ranking #25 in the CA list, 9:52.23 for 3200m, ranking #4 on the CA list, and now this great performance!
Continue reading at: ca.milesplit.com
Photo credit: Kevin Morris
U.S. high school girls Mile top 10 HERE.