Horowitz Wins NCAA D-III Indoor Mile Title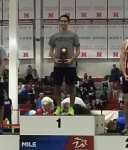 March 15, 2014
Senior becomes first men's D-III indoor champion for Bowdoin
From Bowdoin Athletics
LINCOLN, Neb. - Bowdoin College senior Coby Horowitz became the first individual NCAA Division III champion in Polar Bear men's indoor track & field history by claiming the Mile title at the national championship meet in Nebraska on Saturday.
In addition to Horowitz's winning performance (4:08.40), sophomore Jacob Ellis earned All-American honors by placing fifth in the 800 meter race Saturday .
Horowitz becomes the first Bowdoin NCAA champion since the 2012 Distance Medley Relay, also including Horowitz, took first in the indoor championship. Prior to that Darcy Storin won the 5000 at the outdoor nationals in 1996. Horowitz is the first individual NCAA indoor track champion for men or women since the formation of division III in the 1970's. Alex Schulten was Bowdoin's last indoor national champion in the weight throw at the Collegiate Championship (non-NCAA) in 1965.
Horowitz immediately opened up a two-second lead on the first lap. Extended his lead to an astounding five seconds in the middle laps of the race, and then came in two seconds ahead of second place finisher Ryan Widzgowski from Keene State. New England runners took first and second in the Mile, and three of the top 6 places.
Continue reading at: http://athletics.bowdoin.edu