Cram's love for Games spun from pure gold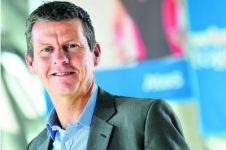 February 26, 2014
"I won a lot of gold medals and I raced with the best. But for me the greatest moment was beating the Mile world record."
By Hugh Macdonald, The Herald
A gliding, guzzler of yards on the track, Steve Cram had no sooner returned from Russia than he was in his car driving from his home in Northumberland to attend a conference at the Science Center in Glasgow.
His immediate itinerary includes a trip to London at the weekend for the Carling Cup final between Manchester City and his beloved Sunderland. "I have never seen Sunderland win a cup final," he says. "I was 12 in 1973 [when Sunderland beat Leeds United in the FA Cup final] and my dad would not let me go."
The lingering hurt of the deprived football fan is replaced by Cram's reflections on the 40 years since that have included sporting greatness achieved shoulder-to-shoulder with the likes of Seb Coe and Steve Ovett and, more parochially, Tom McKean and Graham Williamson.
History shows that Cram won Olympic silver (Los Angeles 1985, 1500m); world championship gold (Helsinki 1500m, 1983); European Championship gold (Athens 1982, 1500m, Stuttgart 1986, 1500m); and Commonwealth Games gold (Brisbane 1982, 1500m, Edinburgh, 1986, 1500m and Edinburgh, 1986, 800m). During a 19-day period in 1985, he set world records in the 1500m and 2000m and the Mile.
Continue reading at: www.heraldscotland.com