Sir Walter Running's Summer of Miles: Pop Up Miles Season 4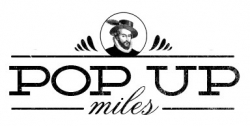 June 06, 2018
New this year: Session at the Speedway, a multiple distance event on Tuesday, June 19
RALEIGH, N.C. - Now in its fourth season, Sir Walter Running's free community track series, Pop Up Miles, returns to its standard Tuesday nights starting on June 5. The rotating venue series started in 2015, with runners finding out the Saturday before each Tuesday where the event would be held. Each week, there is an over 5:30 Mile, an under 5:29 Mile, a bonus event (5K, 400 meters) and a relay (4x400, 4x800).
During the month-long series, athletes compete for the Top 10 slots in the Championship Miles event held on Tuesday, June 26. The male and female winners of these races earn a chance to compete against the nation's top elite Milers in the 5th Sir Walter Miler to be held on Friday, August 3 at Meredith College.
Adding to the Pop Up Miles series on Friday, June 15 is the 3rd Raleigh RunDown Downhill Mile, "the fastest Mile in North Carolina", due to its 130 foot drop in elevation from the start to the finish, generally allowing competitors to run 20-30 seconds faster than usual. For the first time, Raleigh-based Bandwidth will be a presenting sponsor of the event, whose campus is nearby to the Centennial Parkway route. Post-party will again be held at Trophy Brewing Co. on Maywood, with awards from Runologie. Shop Local Raleigh is also a longtime sponsor of the event. The men's course record is 3:52.57, set by Brayden Burleigh in 2016, and the women's course record is 4:27.95, set by Sarah Rapp in 2017.
"This course was specifically designed for speed. A few years of scouring Raleigh for the perfect grade to run fast, without hurting yourself, led us to the lush slope that is Centennial Parkway," said Race Co-Founder, Pat Price.
Another new event for 2018 is the Session at the Speedway, a multiple distance event that will take place on Tuesday, June 19 at the Wake County Speedway, as part of the Pop Up Miles series. Competitors will run the Mile, 1/4 Mile, 1/2 Mile, then the 2 Mile on the speedway track, known as "America's Favorite Bullring," with lowest time equals lowest score system. Raleigh Denim Workshop will be co-presenting the unique event, where denim is not required, but encouraged.
Athletes and fans will also be allowed to bring a soft cooler into the speedway, with their beverages of choosing. Alcohol will be permitted, but no glass is allowed. Sir Walter Running recommends supporting local breweries and their session offerings. This is very unique to the sport of track & field.
"We are excited to merge the two things that belong at a speedway, denim and racing! Raleigh Denim is bringing the fashion and Sir Walter the running! It'll be a night of Americana at the Speedway!" said Sir Walter Running Co-Founder, Sandy Roberts.
Wrapping up the Summer of Miles will again be the Sir Walter Miler, a Bring Back the Mile Featured Event. Now in its fifth year, Sir Walter Miler was called the "best glimpse of future growth for American track" by Sports Illustrated in 2015, and has boasted 26 sub-4:00 performances on the men's side, and 9 sub 4:30 performances on the women's side; with a reputation as one of the fastest, rowdiest Mile events in the World. The Elite Field and full details on the event will be released in early July.
2018 Summer of Miles Schedule
• Tuesday, June 5 – Raleigh, NC – Summer of Miles podcast presents Pop Up Miles – Week #1 (Bonus Events: 5K, 4×400)
• Tuesday, June 12 – Raleigh, NC – North Raleigh Family Eye Care presents Pop Up Miles – Week #2 (Bonus Events: 400, 4×800)
• Friday, June 15 – Raleigh, NC – Bandwidth presents Raleigh RunDown Downhill Mile
• Tuesday, June 19 – Raleigh, NC – Raleigh Denim presents Pop Up Miles – Week #3 – Session at the Speedway
• Tuesday, June 26 – Raleigh, NC – Greater Raleigh Sports Alliance presents Pop Up Miles – Championship Miles (Bonus Events: Open Mile, 4×400)
• July – Date TBD – Under the Stars Mile
• Friday, August 3 – Raleigh, NC – 5th Sir Walter Miler
• Saturday, August 4 – Raleigh, NC – Run with the Pros
To register or for more information, go to: sirwaltermiler.com/popupmiles
The 2018 Summer of Miles series is directed by Sir Walter Running, a Raleigh-based 501(c)(3) non-profit whose mission is "bringing the Greater Raleigh running community together through innovation, activation and inclusivity." Sir Walter Running also produces the Pop Up Cross Country series at Dix Park, the Summer of Miles podcast, the Nash UNC Health Care Rocket Mile in Rocky Mount, a series of Strava Challenges, as well as the forthcoming post-run polo, that was created in conjunction with the Portland Track Festival Innovation Project.