Interview with Kate Grace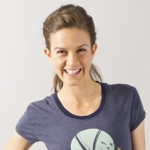 March 13, 2013
Carrie chats with professional middle distance runner Kate Grace! They talk about Kate's experiences running for Oiselle and the NJ-NY Track Club, her pre-race focus routine and the importance of a supportive running community.
By Carrie Tollefson, CTolleRun.com
Kate Grace, who finshed third (4:28.79) at the recent Wanamaker Mile - 43rd U.S. woman to break sub-4:30, attended Marlborough High in Santa Monica, CA where she competed on the track and was the 2006 Division IV State Cross Country Champion. The Yale grad was a 4-time All American and set records in the Mile and 800m. She competed in the 2012 Olympic Trials in both the 1500m and 800m. Kate is sponsored by Oiselle and runs for the New Jersey New York Track Club.
More at: ctollerun.com