Aidan Gilson wins Tommy Cochary High School Mile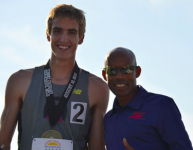 August 17, 2015
The MIT bound Northampton graduate won the Tommy Cochary High School Mile at the Falmouth Road Race Saturday, clocking 4:26.1.
By Mark C. Volain, Mass Live
Aidan Gilson, a 2015 graduate of Northampton High School, won Saturday's 5th Tommy Cochary High School Mile.
Gilson's time of 4:26.1 was just over a second faster than runner-up Zachary Manickas-Hill of Lexington.
The Tommy Cochary High School Mile is named in memory of a former Falmouth runner who regularly attended the Falmouth Road Race with his family.
Gilson, who will run for MIT starting this fall, was a three-season, first team All-Western Mass runner his senior year of high school.
Continue reading at: masslive.com